Meet The Host - Sean Winningham
Sean was first introduced to comics by his uncle when he was young and still remembers to this day reading the first issues of X-Men and Daredevil from his uncle's comic book collection. Since then, Sean has been in love with the comics medium, superhero genre, and all types of fandoms and pop culture. He is also the Social Media Engagement Manager and Contributor for Comic Watch as well as the Senior Multimedia Producer for Nerd Initiative.
Sean also spends his time with his wife and son. They love to travel; their favorite places are Walt Disney World & Universal Studios and going on a cruise in the Caribbean.
About Comic Watch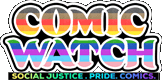 The Captioned Life Show is a member of the Comic Watch family. Comic Watch is your source for fandom news & pro reviews in the world of comics, television, movies, anime, gaming, and more! They are a grassroots organization focused on sharing their love for comics and all things fandom by providing the most insightful reviews and honest news in the industry so you don't have to get lost in all the nonsense and clickbait.
Guest Spots: Appearances On Other Podcasts And Media
We've had great opportunities to be a guest on other shows and podcasts, as well as show up in the news! Check out this page to see where we've appeared. 
Friends Of The Show
Kevin Stahlecker - Founder & Guest Host (Former Cohost)
Kevin Stahlecker is a lifelong Texan, growing up and currently residing in the Houston area.
He discovered his love for comics and superheroes during his elementary years at the county library, reading a collected edition of Superman strips from the '40s and '50s during summer break. After that, you could find him on the playground swapping Wolverine trading cards and discussing the latest episode of X-Men: The Animated Series. He spent much of adolescence reading comics of all kinds and drawing superheroes in his spare time, and this greatly influenced his personality as he grew to adulthood.
He has spent the last 14 years as a public educator and uses his passion for pop culture and the visual arts in his roles as an Instructional Technology Coach and Principles of A/V Technology instruction. As a teacher, he is also a vocal advocate for the inclusion of comics and graphic novels in juvenile literacy programs.
Outside of school, he still collects comics, action figures, and trading cards, as well as draws in his spare time. He is also a huge fan of sci-fi, fantasy, and superhero movies/tv shows. He has been married to his amazing wife Catherine for 15 years, and they have 2 children, Madden and Caroline. Together, they love to plan regular trips to Walt Disney World or cosplaying at comic conventions.
LIKE WHAT WE'RE DOING?
We hope so! And we do this for free and don't charge our listeners for anything because our model is to try to support everyone without the financial burden. 
We have our podcast because we enjoy it and we don't do it to make money. But running a podcast isn't easy or cheap, either. There are financial costs that we incur to make the podcast going (hosting the podcast itself, running a website, software to record and edit, etc.). 
That said, here are some ways you can support the show
FREE WAYS TO SUPPORT THE SHOW
DONATE TO THE SHOW
If you would like to support us financially, please know that this is not needed nor expected, but if you do donate, we appreciate it very much and will acknowledge that on our show and website as well. Visit our Ko-Fi page to donate. You can do a one-time donation or donate on a monthly basis - the choice is yours!